A series of paper sizes contains a definition of the paper sizes. It is a system for specifying a sheet of paper's measurements.
The following tables provide the A Series of paper sizes ' millimetre and inch measurements according to ISO standard 216. The chart below, on the left, for A Series of paper sizes, gives a visual depiction of how sizes are related to one another: A5 is one half size paper of A4 paper, for instance, while A2 is one-half of A1 paper.
This article will introduce the paper sizes and discuss the dimensions of a series of paper sizes.
See Also: A Paper Sizes in Pixels: Low, Medium & High Resolutions
Check this Out: What Size is Copy Paper
The DIN 476 Oversize Formats Of 4A0 & 2A0
According to ISO 216, a series of paper sizes larger than A0, 4A0, and 2A0 are not legal, but everyone uses this for oversize paper.
The origins of these formats are found in Germany's DIN 476 Standard, the initial foundational document from which they took ISO 216. However, the 4A0 does not follow that naming pattern.
See Also: B Paper Sizes – B0, B1, B2, B3, B4, B5, B6, B7, B8, B9, B10
A Series Of Paper Size Tolerances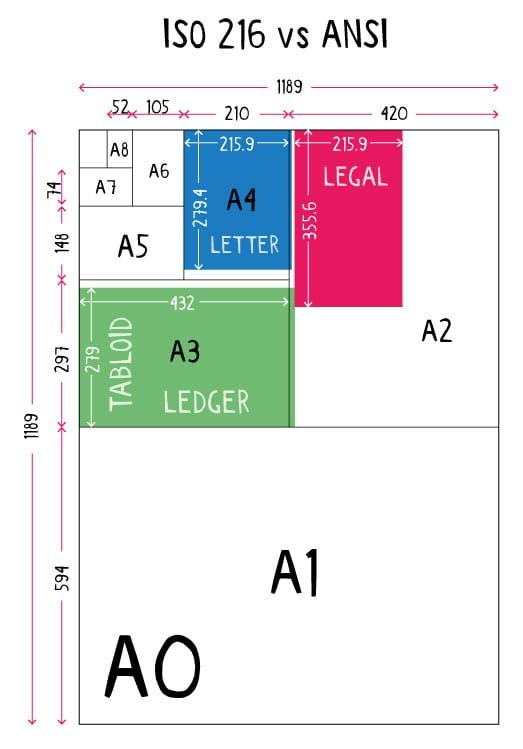 For sizes up to 150mm (5.9in), size is +-1.5mm (0.06in). 
For lengths between 150 and 600 mm (5.9 and 23.6 in), the size is +-2 mm (0.08 in). 
For any lengths larger than 600 mm (23.6 in), the size is +-3 mm (0.12 in). 
The size of the paper after dividing the length and width is 1.4142.
The A0 dimension has a 1 m2 area.
An (n-1) split in half along the parallel to its short side defines each succeeding A(n) size.
Each size's standard lengths and widths are rounded to the nearest millimeters. 
Note: That last number is there for reference because a root-to-aspect ratio does not always produce the full number.
 Please see here for more on paper-size areas and areas in sizes other than A0, both square meters and square feet.
See Also: Postcard Sizes: International (A6) and US Postal Service Standards
International Usage
Everyone around the world uses the A-series size except in parts of the US, Canada, and Mexico.
In English-speaking countries, The A4 size has become standard for business letters, formerly used as British Imperial sizes. In the middle of the 20th century, A-size sheets became an official standard in Europe before becoming famous all over the world.
See Also: A Series Paper Sizes Full Diagram (With Latest Modification)
RA & SRA Untrimmed Sizes
The RA & SRA sizes determine untrimmed paper sizes for commercial printing.
These formats are designed so the ink can be bleeding during printing, then trim down into one of the A-series of paper sizes. Click here to find more information on RA and SRA sizes. 
See Also: Poster Sizes – UK, US, French, German, Italian, Australian
A3+ (Super A3)
A3 +, sometimes referred to as Super A3, is not the size of ISO 216 paper.
It has dimensions of 330mm by 483mm (13″ by 19″); this gives it a ratio of 1:1,468 instead of the 1:1 roots ratio two-aspect ratio of ISO Series. The name A3+/Super A3 is misleading since that paper size is known in the US as B+ or Super B, which is an ANSI B with a 1″ bleed-off margin. 
See Also: Magnification Factors of Photocopying & Paper Scale
FAQs
Is there an A1 paper size?
There is a size for an A1 sheet of paper. A1 paper is 594 x 841 millimeters or 23.4 by 33.1 inches. Cutting this in half would make two A2 sheets of paper.
Is A2 bigger than A4?
Yes, A2 is bigger than A4. The dimension of A2 is 420 x 594 mm, and the dimension of A4 is 210 x 297 mm. If you cut the A2 sheets in half, you will get two A4 sheets.
Which is bigger, A2 or A3?
A2 is bigger than A3. The dimension of A2 is 420 x 594 mm, and the dimension of A3 is 297mm x 420mm.
What does the A stand for in paper sizes?
The A, B, and C prefixes are three paper sizes. The A-series is most commonly used in print jobs and for stationery with letterhead.