US Paper Sizes set by USA standards. Paper has become almost like a fundamental need for us humans. We use paper for virtually every task. Straws made out of paper, cardboard for storage made out of paper, tissues made out of paper, writing and printing papers, legal documents on papers, even toilet papers! Our lives revolve around such a vital thing. And today we are here to talk about writing papers.
The Need for Paper and its Different Sizes
Since it invented, people started using them increasingly, and it spread worldwide. Even before the paper has formally created, people used to write on tree leaves or barks which are the raw materials for making paper. Paper later spread worldwide and here we are today, where we use it for every other purpose.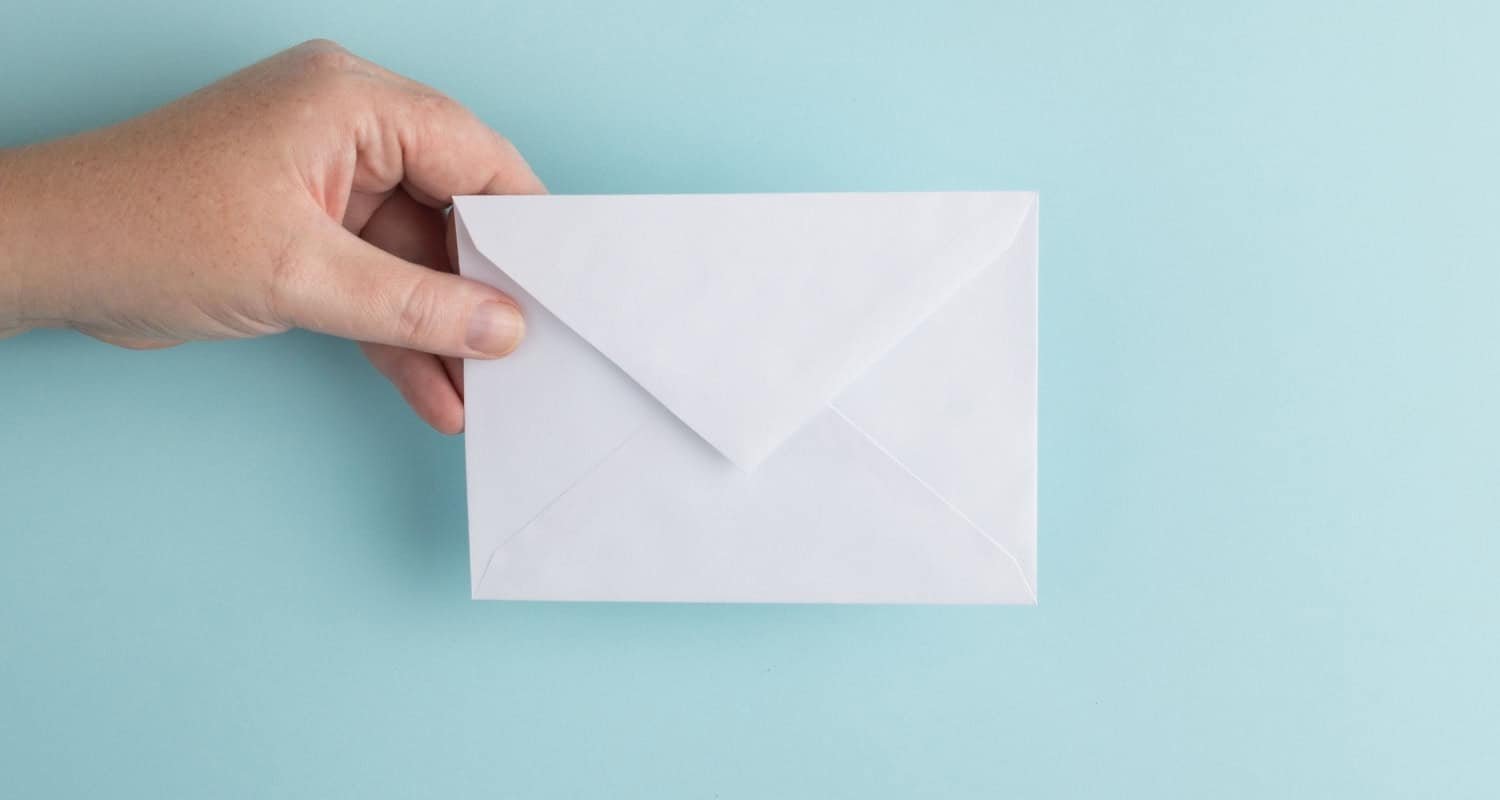 This use and the need for paper led to the definition of a specific set of Standards and Rules for Paper Sizes US and Weights. This helped in paper transportation and legalized the use of paper as a primary exchange document for legal purposes and others amongst countries. These set of Rules are described in the ISO 216 which perfectly exploits the properties of a √2:1 aspect ratio.
A paper of such aspect ratio when either folded midway between the shorter edges or joined with the paper of the same size along the longer edge stays in the same √2:1 aspect ratio. Thus, ISO 216 defines various Paper Sizes based on this property.
See Also: How to change paper size on iPhone
US Paper Sizes
Although ISO – International Organization for Standardization – has accepted widely by various countries across the world, there are still some countries who like to stick to their traditional norms and measurements. The regions included in North America, i.e., US, Canada and some parts of Mexico are the only few countries which do not accept the ISO 216 and doesn't use its paper sizes.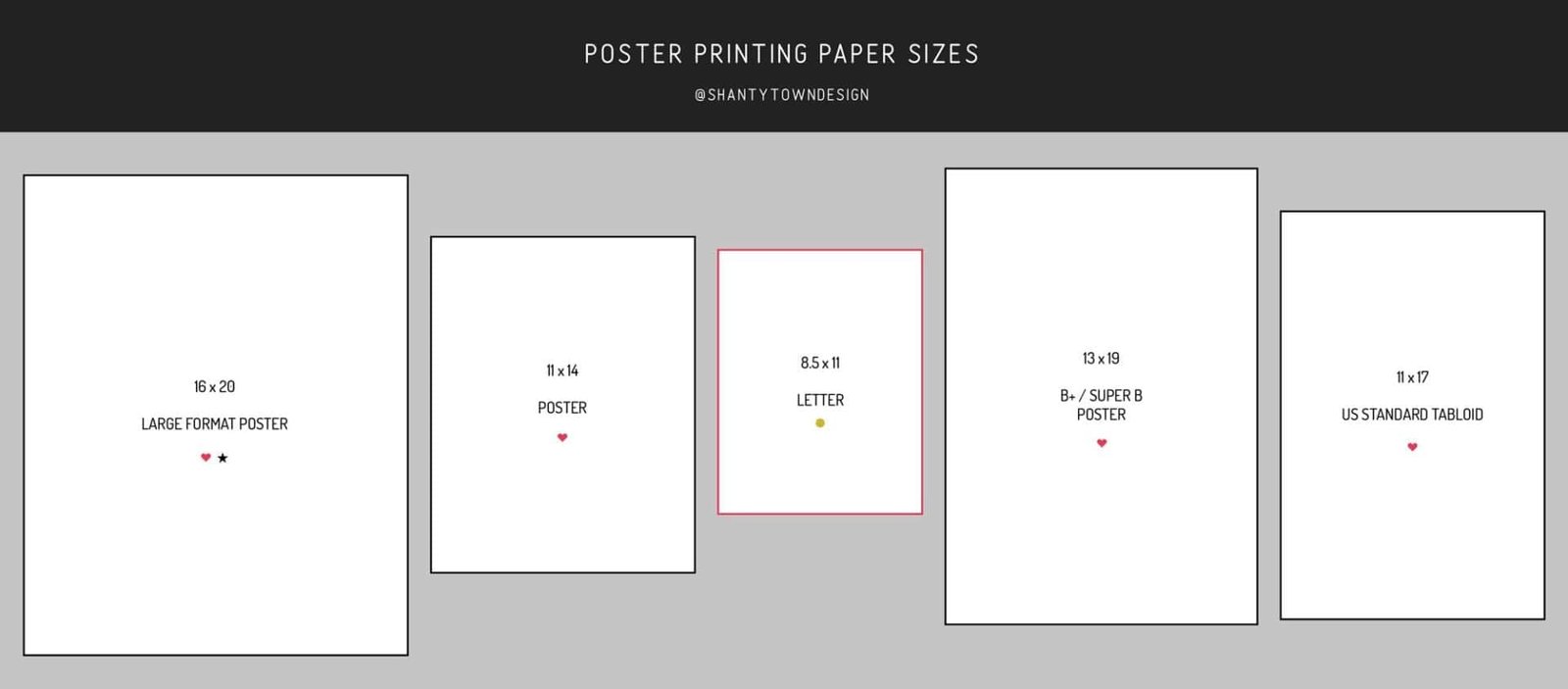 But as these countries, especially the US, are so internationally famous, it is essential for us all to know and use Standard US Paper Sizes when dealing and communicating with them. That is the purpose of this article today.
| Size | Width x Height (mm) | Width x Height (in) | Aspect Ratio |
| --- | --- | --- | --- |
| Half Letter Paper Size | 140 x 216 mm | 5.5 x 8.5 in | 1:1.5455 |
| Letter Paper Size | 216 x 279 mm | 8.5 x 11.0 in | 1:1.2941 |
| Legal Paper Size | 216 x 356 mm | 8.5 x 14.0 in | 1:1.6471 |
| Junior Legal Paper Size | 127 x 203 mm | 5.0 x 8.0 in | 1:1.6000 |
| Ledger / Tabloid Paper Size | 279 x 432 mm | 11.0 x 17.0 in | 1:1.5455 |
Such areas use various other Standard US Paper Sizes that they have made for themselves. Such as:
Letter
Legal
Executive
Ledger / Tabloid
Just like ISO 216 standardizes the √2:1 aspect ratio, these North American Paper Sizes Standards have regulated the 1:1.5455 and 1:1.2941 aspect ratios for various Paper Sizes. Just like A4 is the most common paper size as per the ISO 216. Similarly, the closest in dimensions to A4 in Standard US Paper Sizes are US Letter Size; which is almost equivalent to A4 size for them regarding use, is the most commonly used one in these countries. The difference between US Letter and Legal Paper sizes and international A4 is discussed here in-depth. This page discusses about North american paper weights in detail.
It's necessary to know how weights, size and stock type affects your choice of paper.
The following are the Size Standards and Sizes that the North American Countries follow:
ANSI (American National Standards Institute) Paper Sizes
As we earlier mentioned, Letter is the most used size in the US Paper Sizes; it is evident for them to design other paper sizes around the Letter Size. Hence, ANSI Paper Sizes are based around the Letter Size of dimensions 8.5 in × 11 in. They are a series of sizes named starting with A until E; with A being the smallest and E being the largest size.
| Size | Width x Height (mm) | Width x Height (in) | Aspect Ratio | Closest ISO |
| --- | --- | --- | --- | --- |
| A | 216 x 279 mm | 8.5 x 11.0 in | 1:1.2941 | A4 |
| B | 279 x 432 mm | 11.0 x 17.0 in | 1:1.5455 | A3 |
| C | 432 x 559 mm | 17.0 x 22.0 in | 1:1.2941 | A2 |
| D | 559 x 864 mm | 22.0 x 34.0 in | 1:1.5455 | A1 |
| E | 864 x 1118 mm | 34.0 x 44.0 in | 1:1.2941 | A0 |
There are mainly based around the 1:1.2941 and 1:1.5455 aspect ratios. ANSI A Paper Size generally called the Letter Size, and ANSI B Paper Size usually called as Ledger / Tabloid. An interesting fact is that the ANSI Standards have defined mainly only in 1995 even though they were in use for a long time. These were defined after the ISO 216 was introduced.
√2:1 aspect ratio adopted by ISO 216 is also resized friendly which means the margins remain the same even after enlarging or shrinking the document, but same is not the case with the aspect ratios adopted by the ANSI US Paper Sizes. They leave either broader or shorter margins when documents have resized; which makes it look a bit bad and affects the professional look.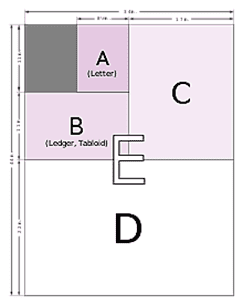 B+ (Super B)
The process of printing can be mostly hectic in the sense; that it leaves ink bleed on the edges of the paper. Hence, many times papers produce a bit bigger in a way; that the ink bled parts can later be cut off to arrive at a standard size of paper. One such size is the B+ or Super B in the US Paper Sizes.
This size is also called A3+ or Super A3 in the countries which have accepted the ISO 216 Standard and hence can be a bit confusing. B+ is the ANSI B Size with a 1-inch margin; which is later to trim in case of ink bleed. Another example of confusion is that many times 330 mm × 482 mm regarded as the B+ size by European manufacturers who use the ISO 216 Standard Paper Sizes.
Table for Architectural Paper Sizes
Architectural Papers are generally significant and used for drawing, scaling of architecture, mapping, and other purposes. These data nowadays need to send to the web for portability purposes. This is why US Paper Sizes have intentional Architectural Sizes in a way that they don't need to resize or crop to view on a computer. Thus, architectural paper sizes are usually based on 4:3, 3:2 or 7:5 aspect ratios – which are generally the aspect ratios of our computer screens.
| Size | Width x Height (mm) | Width x Height (in) | Aspect Ratio |
| --- | --- | --- | --- |
| Arch A | 229 x 305 mm | 9.0 x 12.0 in | 4:3 |
| Arch B | 305 x 457 mm | 12.0 x 18.0 in | 3:2 |
| Arch C | 457 x 610 mm | 18.0 x 24.0 in | 4:3 |
| Arch D | 610 x 914 mm | 24.0 x 36.0 in | 3:2 |
| Arch E | 914 x 1219 mm | 36.0 x 48.0 in | 4:3 |
| Arch E1 | 762 x 1067 mm | 30.0 x 42.0 in | 7:5 |
It has six sizes named – Arch A to Arch E – which have aspect ratios of 2:3 and 3:2 alternately – and a different Arch E1 (resized Arch E) Size with an aspect ratio of 7:5. As you'd expect, the smaller size is Arch A, and the largest size is Arch E.
(Image Courtesy: Wikipedia)
Other US Paper Size Standards
There are even different US Paper Sizes innovate by the ANSI and; other Standards which are not capsulate in the article due to the shallow use of such sizes. They are as follows:
ANSI INCITS 96-1983: – Introduced in the year 1983 for Forms, Applications, and Single-Part Continuous Business Communication Paper Sizes
ANSI INCITS 151-1987: – Introduced in the year 1987 for Bond Papers and Index Bristol's
US Envelope Sizes: – These are much more detailed than ISO 216 and are very appropriate for all Paper Sizes in North America.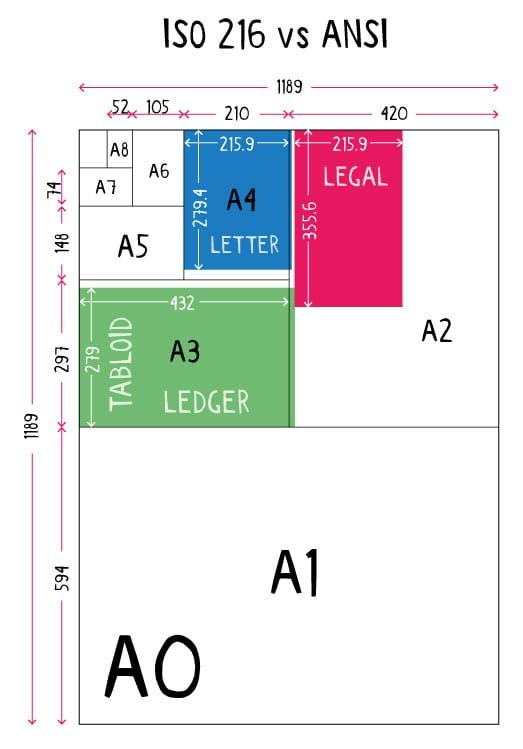 These are most of the Paper Sizes in use in North American Countries. It is essential that we use these paper sizes while communicating with those countries. The legal paper size and standard paper size are mostly the same, but you can check out the table as well. All the standard paper sizes, like Ledger Paper Size, Letter Paper Size, Legal Paper Size, Junior Paper Size, etc. are available.
US Paper Sizes – Quick Measurement Lookup
Choose the paper size from the field 'Size' selector and the unit from the field 'Unit' selector. The appropriate dimensions will show in the dimensions box field.
FAQs
Which nations utilize letter-size paper in the United States?
ANSI or Letter format The American National Standards Institute defines Letter as a paper size standard frequently used as home or office stationery in the United States, Canada, Chile, Colombia, Costa Rica, Mexico, Panama, Guatemala, the Dominican Republic, and the Philippines.
What kind of paper is in the United States?
The width of the US Letter paper is 215.9 mm, and the length is 279.4 mm. The ANSI defines US Letter, which is in North and South America. It is the standard copy paper sheet compatible with most home and office printers.
How do Americans determine the size of paper?
How much paper do Americans use?
Despite having fewer than 5% of the world's population, the United States consumes more than 30% of all paper. The United States consumes around 68 million trees each year to generate paper and paper goods.
What is the US letter size format word?
Word's default paper size in the United States is Letter (8.5 × 11 inches / 21.59 x 27.94 cm). You can alter this if you frequently use a different paper size: On the main ribbon, navigate to Layout > Size > More Paper Sizes. Choose a paper size from the dropdown menu (or insert your values).
What is the purpose of legal papers in the United States?
Legal paper is used for purposes such as brochures and legal papers. It is a standardized paper size (English measuring system) in the United States and other nations that still use English paper sizes. The dimensions of legal size paper are 8.5 inches by 14 inches.
Are paper sizes different in the UK and the US?
Paper sizes vary depending on where you live: the United States, Canada, the United Kingdom, or Europe. This is primarily owing to the different measuring systems in use, with the United States using imperial measures (inches and feet) and the rest of the world using metric measurements (millimeters and centimeters).
What is the paper sizing material?
Papermaking uses sizing to enhance the paper's absorption and wear qualities. Starch, latex, polyvinyl alcohol (PVA), and carboxymethyl cellulose (CMC) are the most prevalent ingredients in sizing solutions.
Final Words
So, now you don't have to search us paper sizes chart, tabloid paper size, or printer paper dimensions. Our post along with all the US Paper Sizes and a quick measurement table would solve all your doubts. You can comment below if you have any other suggestions regarding these standard us paper sizes.