Do you know what SRA3 size is? If you're in the printing industry, you've probably heard of it. But what exactly is it? This article will answer all your questions and provide you with everything you need about SRA3 size. We'll discuss the dimensions of SRA3 size, the applications of SRA3 size, and the advantages of SRA3 size. So, let's start!
We've all heard of the traditional "A" sizing scheme when dealing with paper. The most common size of paper in offices is A4, but we could also buy A3 paper for group projects and presentations or an A5 notepad to carry in our luggage. The scale ranges from A0 to A8. However, these are generally the three most popular sizes. SRA sizes for paper have become more popular in recent times. What does this signify, though?
This article is your ultimate guide about SRA3 paper; sra3 size and SRA3 Paper sizes stick on until the end.
See Also: A Paper Sizes in Pixels: Low, Medium & High Resolutions
What is SRA3 size?
The term "supplementary raw format A" (SRA) refers to a slightly bigger paper size than its "A" equivalent. For instance, SRA3 is 450mm by 320mm, while an A3 finished sheet is 420mm x 297mm.
Commercial print devices, like most desktop printers, cannot print edge-to-edge. Thus, the larger SRA3 paper gives us space to work around this. For instance, if we are printing an A3 poster, we will place the poster in the center of an SRA3 sheet and add "bleed" (excess print around the sides) of around 3mm. The exterior white portions of the object that we can't print on are afterward cut away, leaving us with a final, edge-to-edge A3 print that meets our specifications. The majority of commercial digital printing equipment accepts SRA3 as a standard size. Litho presses can, of course, print much larger.
See Also: Difference Between A4, Foolscap, Letter & Legal Paper
What print sizes are available on SRA3 paper?
Smaller printed things are produced in multiples on a single SRA3 sheet. For instance, we can fit four A5 leaflets on a single sra3 size sheet while still leaving space around the sides and between each.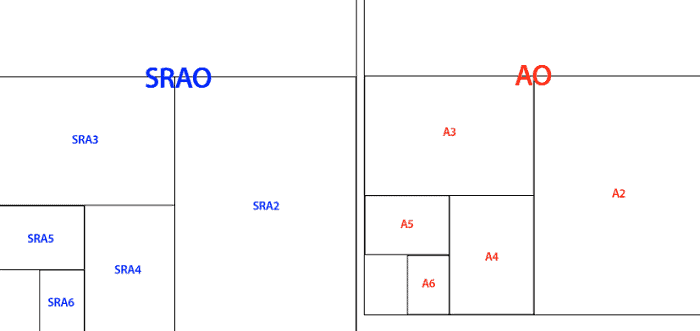 So, once we cut down the massive SRA3 sheet with our guillotine, we'll have four x A5 leaflets. In light of this, printing the following on a single SRA3 sheet is possible:
Each SRA3 sheet requires one A3 sheet.
Each SRA3 sheet requires two A4 sheets.
Each SRA3 sheet has 4 x A5 sheets.
Each SRA3 sheet has 8 x A6 sheets.
Each SRA3 sheet has 16 x A7 sheets.
For each SRA3, 21 cards are 85 by 55 mm.
See Also: Dimensions Of A Series Of Paper Sizes
Why Use SRA 3 Paper?
Why print more than one page onto the SRA3? One benefit is that it costs less. It makes it logical to print on the largest sheet feasible because paper costs do not increase linearly with size. Suddenly, you are receiving multiple A5 or A4 pages for the cost of only one. You can find it difficult to comprehend the rationale behind the abrupt switch if you've been getting by with the conventional sizes.

However, there are other factors besides price to consider. Printing on SRA3 sheets makes sense for companies with printers always in use because you can print more in an hour. You can print two A4 pages on an SRA3 sheet instead of one A4 page at a time. Of course, doing this helps the company save time and money.
If you're concerned about the trimming procedure, you won't have A4 pages that aren't straight and paper fragments all over the place. An expert performs the trimming instead of using a guillotine to provide a smooth and precise cut.
There are benefits to purchasing SRA3 Sheets from DAL, and we may discover more by looking at their services. You'll observe that they provide pre-cut digital labels in squares, circles, and rectangles. This expands the range of printing options offered in both matt and gloss sheets. Some people even print utilizing the circle labels around the perimeter, which would have been incredibly challenging and time-consuming in the past.
Nearly any notion that the most imaginative brains come up with can be realized with the appropriate source because they will have a wide range of sizes available. The ideal answer is to purchase the sheets to enhance output while lowering production costs.
Use of SRA3 size Papers
Well, the SRA 3 size of paper is most commonly used for commercial printings like printing of labels, Packaging, etc. Previously even for bulk printing, A4 size sheets were used, but they switched to SRA papers to save the cost due to high cost.
SRA 3 papers are much bigger than A4, and bulk ordering them saves them the cost, and they don't have to compromise on the quality. Thus SRA3 paper sizes are an effective way of printing as it also saves pages. Cost is the fundamental justification for printing several sizes on a single SRA3 paper. Printing on the largest page is more cost-effective since paper costs stay linearly with sheet size. Utilizing the maximum sheet size for the machine is crucial to minimizing production costs because print machines have a limited number of sheets they can produce in an hour which doesn't increase with a reduction in sheet size.
FAQs
How do Printing Companies set Prices?
Digital print firms use the number of copies that can fit on an SRA3 paper to calculate the price for a job. The outcome indicates the required number of sheets of paper and the number of print impressions, both of which have associated costs. They combine and mark it up to make a tiny profit for the printing business.
What makes SRA3 paper different from A3 paper?
SRA sizes are larger than 'A' sizes because they account for the white border around the edge of the paper. This additional paper area offers you more leeway when cutting your unfinished sheets since it serves as a deterrent against cutting into your finished work.
What size of paper are printing companies using?
Contrary to popular belief, printing companies do not use paper the same size as the finished product. Assume that we print A4 leaflets on paper already that size, just as you might do at home with your desktop printer. SRA3 and SRA2-size paper is what we print on. These are sizes for commercial paper, so it's unlikely that you'll ever need them in daily life. With industrial print equipment, though, such is not the case. Leaflets, flyers, and other digital printing are done on this kind of paper. However, it does not apply to wide-format printers used to print huge PVC banners or roller bands because those materials are available in enormous rolls.
What size is SRA3 in cm?
SRA3 is a standard paper size for commercial printing. The dimensions of SRA3 are 33 x 48 cm or 13 x 19 inches.
Conclusion
SRA3 paper sizes are ultimately favored above A4 for commercial printings, even though they are both more affordable and more capable of producing high-quality prints than A4. However, being aware of the type of SRA3 paper you use is always preferable for better and more affordable product results. This thoroughly explains what SRA3 Size is and how it is used; we sincerely hope you found it useful.
See Also: Paper Quantities – Ream, Quire, Bundle, Bale & Pallet