When it comes to gifts, there is no better gift than a portrait, but even that can become when one needs to know what the popular paper sizes for portraits are. That is why we are here to provide you with a complete guide on popular paper sizes for portraits.
Here is a rundown of the most common sizes, along with their dimensions:
8'x10′ – This is the most popular paper size for portraits. It is large enough to show detail but not so large that it is cumbersome to frame or display. 11'x14′ – This paper size is slightly larger than 8'x10′ and is a good choice for those who want more room to work with. 16'x20′ – This paper size is ideal for those who want to make a statement with their portraits. It is large enough to show off the subject's features, but not so large that it becomes overwhelming. 20'x24′ – This paper size is the largest of the common sizes and is perfect for those who want to create a dramatic effect with their portraits.
In this article, we will help you understand popular paper sizes for portraits and will also help you to pick out the right size for a perfect gift. We have included what is exactly a portrait, what is a paper size, types of paper sizes, etc.
See Also: Portrait Paper and Landscape Paper: Portrait vs Landscape
What Is A Portrait?
Let's first define a portrait before discussing popular paper sizes for portraits. A portrait is an artistic depiction of a person's face and characteristics.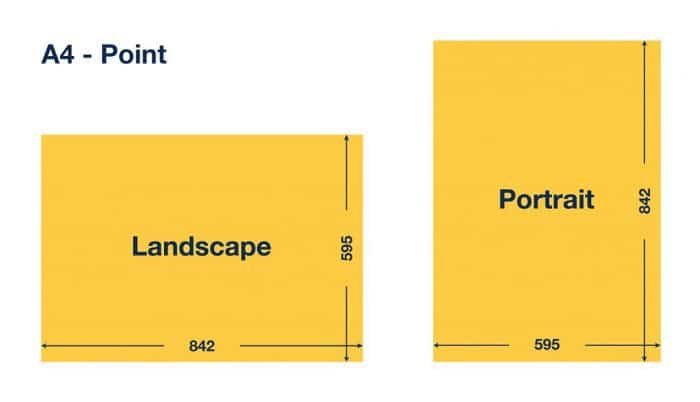 A portrait's objective is to accurately depict the subject's likeness, personality, and, occasionally, mood. Another essential thing to remember is that a portrait depicts the person through the artist's eyes. Therefore, the artist chooses the physical trait or emotional condition that accurately depicts the figure's personality.
The Egyptian Civilization invented the portraits more than 5000 years ago. Then, a portrait, a painting, a sculpture, or a drawn picture was the only way to portray a person's personality.
When boiled down to its basic form, portrait photography takes images of people's faces. However, this type of photography allows the photographer and the subject to express themselves through their statements. In this session, we'll look at the origins of portrait photography, its significance, and a few pointers for taking various kinds of portrait pictures.
What Is Paper Size?
To understand the Popular Paper Sizes for Portraits, we must learn the paper sizes. The dimensions and sizes of A series papers are governed by the worldwide ISO 216 paper size standard. Several different paper sizes are often used worldwide.
A standard A0 piece of paper has a 1 m2 surface area and a 1-to-2 dimension ratio. The previous paper size is divided by the larger dimension by half to generate the subsequent paper size in the series, such as A1, A2, A3, etc. Each page has almost been chopped in half in size. The most used paper size is A4, which has dimensions of 210 by 297 millimeters (8.27 in. x 11.7 in.). For uniformity, the measurements are rounded to the nearest millimeter.
See Also : The History Of Paper | Different Types Of Paper
What Are Some Of The Famous Paper Sizes For Portraits?
We have learned what size is essential for portraits. So why is a paper size so crucial for a portrait? The answer is simple: customize your preferences. So the first thing an individual needs to do is decide what size and purpose they need. The portrait sizes usually come in three sizes which are mini, medium, and large. So now let us discuss some of the popular paper sizes for portraits. We have listed the most popular paper sizes for portraits below :
Mini Size Portrait
Mini canvas sizes are any canvases smaller than 4″ x 6″. These canvases are perfect for producing small artwork.
Mini canvases, including tabletop easel displays and collages, are popular for artistic projects.
They may be admired alone or as a group when hung together on the wall. With larger prints, it could be more challenging to accomplish this. Square versions like 2′′ x 2′′ or 3′′ x 3′′ are part of the small canvas family. Even the slightly larger business card "ACEO" size (Art Cards Editions and Originals) is included.
Small size Portraits 
One of our most famous portrait sizes is the little one. A Small portrait's drawing size is 8×10, or around the size of a regular sheet of printer paper, and its overall size with its mat is 11×14.
This size is for a tiny structure or a maximum of two subjects (people, dogs, etc.).
Additionally, to accommodate two subjects into a miniature picture, the subjects' faces must be near one another since each subject's face must be at least 2.5 inches long. On a case-by-case basis, we can occasionally fit another animal buddy or a young child into a little photo.
Making a statement on a mantel, nightstand, or bookcase is ideal.
Medium-size portrait
The Medium portrait is 16×20 when matted, while the drawing is 11×14. This scale allows for the inclusion of up to three people and an incredible level of detail in each facial expression. Still, it appears fabulously fashionable in a frame or on a mantle.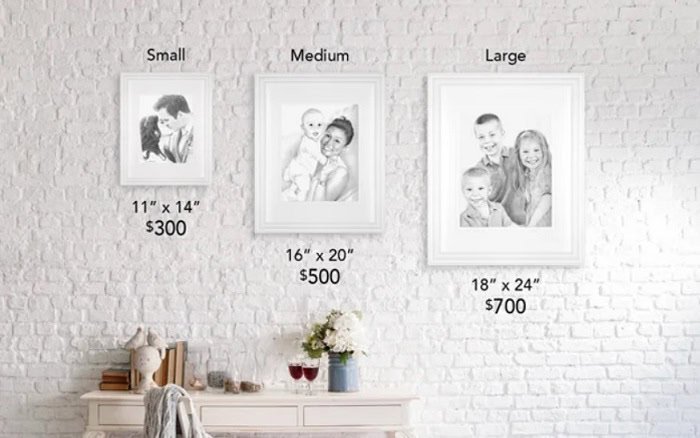 Depending on the number of people, a Medium typically offers additional cropping possibilities and room to incorporate more subjects or a backdrop.
Ple in the chosen photograph.
Large Size portrait
The most demanded or popular portrait size is one of the most popular portrait paper sizes.
Because they frequently suit the entire family, large photographs are a trendy choice among our clients.
The Large Portrait is 12″ x 18″ in drawing size and a massive 18″ x 24″ in its mat. This website, which supports up to four people, is the pinnacle of our portrait size options (five if the subjects are little children or pets).
The Large portrait allows for the greatest customization regarding each subject's composition, size, and positioning. Additionally, because of the larger scale, our portrait painters may include intricate characteristics from the photos that they would have required to accommodate in the smaller sizes.
FAQs
Why is selecting a portrait size necessary?
Well, selecting a size is essential because it will determine the various factors of the portraits, contributing to their length and width, of the portrait. It will also decide the purpose.
What is the size of the mini size portrait?
11' x 14' & 12' x 12' & 12' x 16' & 16' x 20' These are 4 sizes of mini-size portraits.
What are the most popular paper sizes available?
The following are the three most readily available and affordable sizes for portraits that are offered on the market: Mini/Small Medium Large
Best portrait size?
As per the demands, the best portrait size is a large size.
Conclusion
Portraits can come in different varieties, so it is always best to figure out the purpose and kind before selecting the size of the portraits. However, portraits can also make a brilliant gift to someone with the minimum effort possible. With this, we will conclude our article, and we sincerely hope this was a helpful guide for Popular Paper Sizes for Portraits.
See Also: Standard Newspaper Sizes – Broadsheet, Berliner, Tabloid, Compact